PROJECTS
PERSONAL PROJECTS
BOOK: My world - Since 2000 I have been slowly working on an autobiography about myself which is almost complete. The book covers information on how I see the world from my point of view and due to the fact I have high functioning autism, how I coped at school, growing up, interests, goals and much much more. The book was released on May 14, 2011. Here is the cover art, all drawn with pencil. Its a globe with poles and within the globe are drawings of just some of my interests such as space and planets, doom mapping, transport and other things.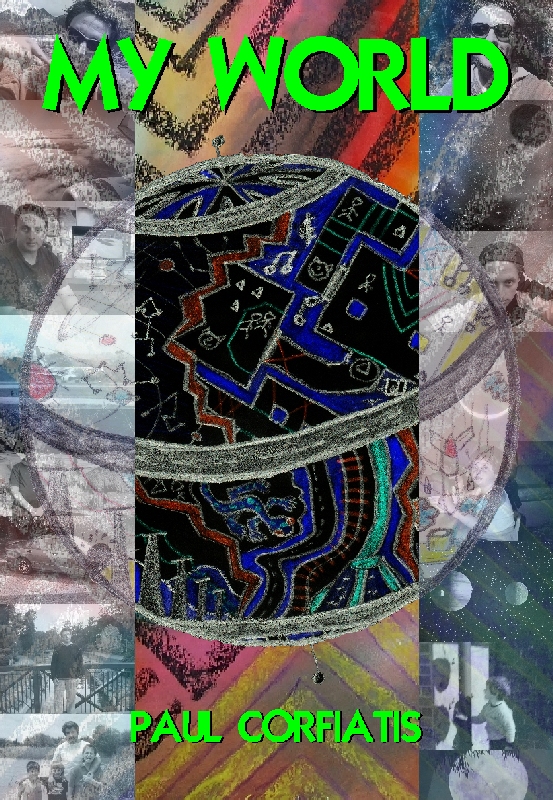 ---
RECORDING STUDIO PROJECTS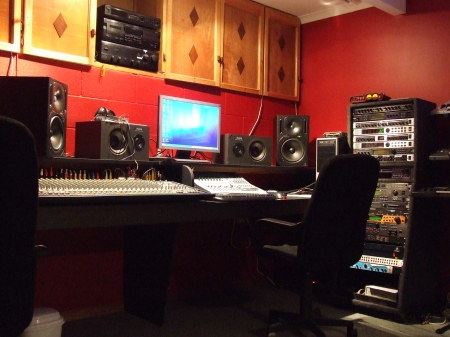 SIMON CAZALY: DON'T LEAVE IT FOR ANOTHER DAY - The first album I helped produce for this independent Tasmanian artist from 2002-2003.
SIMON CAZALY: SUBURBAN STREET SERENADE - The second album I helped produce for this independent Tasmanian artist from 2004-2006.
SIMON CAZALY: CATCH ME IF YOU CAN - The third album I helped produce for this independent Tasmanian artist from 2005-2009.
3TO2 - Worked on some early mixes for Tasmanian hip hop artists 3to2 in 2002 and 2003 before they moved to Melbourne.
---
BIG HART PROJECTS
LOVE ZOMBIES 2008: I worked on trance remixes of 1950-70's hits for the 2008 Wynyard High School musical play Love Zombies and photography of the shows. The show was performed in the gym. A huge thanks to the students for their contribution to the play.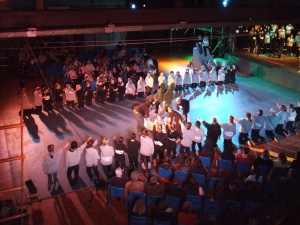 ---
THE DRIVE PROJECT: I worked on sound scapes and did some video and sound editing for a TV documentary named Drive.
---
THIS IS LIVING: Worked on some music remixes for a show late in 2007. The photo is from the second version of the show in which I had no contribution to.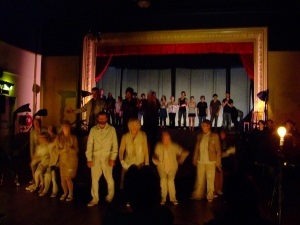 ---
RADIO HOLIDAY: Worked on 3 hours of nature ambient soundscapes in 5.1 surround for an exhibition in Melbourne in October 2006. The set was in Melbourne's fed square. A classic original condition EJ Holden (car from the 1960s) and old caravans were set up to simulate a 1960's feel with green carpet been used to simulate grass. My 5.1 ambient sound track of birds, nature, etc were played through a PA speaker system. It all went very good.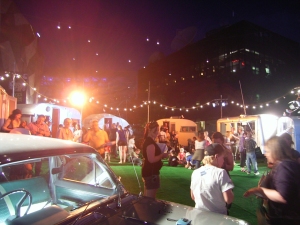 ---
MAD MONTH OF MAKING: In January 2009 we hosted an event in Wynyard Tasmania named the "Mad Month of Making" where to be honest I wasn't sure what was going on half the time. But we set up a skateboard ramp in central Wynyard behind the main street where and used one of the caravans from the Radio Holiday project as an imaginary radio station. I had my first taste of acting (as an imaginary character named Dave) and it was sure an experience. Lotsa kids, definitely lotsa teens with that skate ramp, lotsa music and I met some interesting people indeed. The building behind the skate ramp is the old women's guide hall and was an old school and that is actually the location of the Drive sound and video edit job I will be contributing to in October 2009.